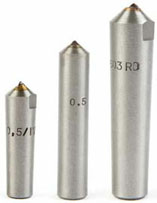 Diamond Dressing Tools
STRAUSS & CO.'s Diamond Dressers are widely used for exposing new abrasive grits and new sharp cutting edges on bonded grinding wheels. The product range includes the Single point Dressers in 3 different quality levels (1-3 working points), the Multi point Dressers that are normally used for large & wide grinding wheels, blade shaped dressers and Hand Dressers.
Single Point Dressers
Size Ct.
Q3 – Octagonal
Q4 – No specified design
Single Use
1-3 Diamond points
min one Diamond point
0.25
DRSSP3-0.25
DRSSP4-0.25
DRSSP5-0.25
0.33
DRSSP3-0.33
DRSSP4-0.33
DRSSP5-0.33
0.5
DRSSP3-0.5
DRSSP4-0.5
DRSSP5-0.5
0.75
DRSSP3-0.75
DRSSP4-0.75
DRSSP5-0.75
1
DRSSP3-1.00
DRSSP4-1.00
DRSSP5-1.00
1.25
DRSSP3-1.25
DRSSP4-1.25
DRSSP5-1.25
1.5
DRSSP3-1.50
DRSSP4-1.50
DRSSP5-1.50
1.75
DRSSP3-1.75
DRSSP4-1.75
DRSSP5-1.75
2
DRSSP3-2.00
DRSSP4-2.00
DRSSP5-2.00
Available in MK0 & MK1 Shanks
For Q3 & Q4 reset of the Diamonds is possible.
Single point dressers with more Diamond points are available as "Premium" and "Super" - please inquire.
Remarks:
Other sizes and shapes are available upon request.
Please contact us for our full dressers catalog